"WE SPEND SO much time in the kitchen," says kitchen designer Marie Browne. "But we don't ask ourselves, how are we using this space? How could we be using it better?"
For most households in Ireland, the kitchen is where life happens. Not just cooking, but everything from the morning scramble to afternoon schoolwork; from lazy lunches to late-night conversations. 
We asked Marie – a designer with Cash & Carry Kitchens – for her tips on designing a kitchen that makes life easier, not harder. Say goodbye to cluttered worktops and make awkward storage a thing of the past with her expert advice. 
1. First, make your 'must-have' list of appliances
The first step, says Marie, is to look at the things that you really need. "That's where the design process really starts," she says. And it's crucial to be realistic. "If you're a family of four, you don't want an under-the-counter refrigerator. You need a tall larder fridge, or there's just not going to be enough space." 
A good starting point, says Marie, is to look at your daily routine. "Are you only using the kitchen for breakfast and a pizza when you get home? Then you can say, one single oven. But the family that is constantly entertaining, or is multigenerational with parents and adult children also in the house – then you probably need two ovens. And maybe also select a combination microwave oven as a third."
If you do this, rather than just including the 'standard' appliances, you'll avoid missing any essentials – or overspending on appliances you don't really need.
2. Then, imagine yourself in your new kitchen
To begin orienting the room, and to ensure that it reflects your needs, Marie suggests visualising yourself in it. "I would be saying, you're standing at the sink, what are you looking at?" she says.
"Are you looking out the window, which would be the traditional Irish kitchen? Or maybe you want to be looking into your living or dining area, because you've always got something on Netflix?"
This exercise will help you work through what you need your design to achieve. "If you have an island are the kids doing their homework at the island – then seating will be a requirement – or is it just for entertaining at Christmas, in which case storage will be the focus? It's all about your own needs and your own life."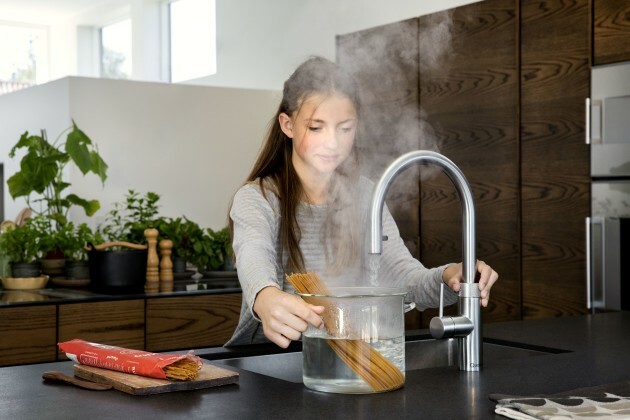 A boiling water tap – such as the Quooker, pictured – can help keep your countertops clear

Source: Cash & Carry Kitchens
3. Maximise your 'work zone' – and keep it clear
The countertop is the most important space in the kitchen, says Marie. "It has so many functions. You're working on it, you're cooking on it, you organise on it, maybe it even doubles as a desk and your paperwork is on it."
And the most used section of all is between the sink and the hob, where all the prep and plating happens. This is the key work zone in your kitchen. So you want to make sure that zone is as spacious as possible, and is kept open – which means not cluttering it with kettle, toaster or anything else. 
Often, says Marie, we use our countertop space as a catch-all for things that don't have proper homes, from small appliances to personal items. "But that's a space where we really need to spread out when we're cooking. So we want to keep it clear."
To get rid of the kettle, she says, you could consider a boiling-water tap. Or a new design trend is to put a worktop and pull-out drawers hidden inside your larder, to create a single handy zone where you can place small appliances and store food.
4. Give everything a home
And as important as the amount of storage you have, says Marie, can be the way you use it. If you put your crockery and cookware in the right place, they'll be there at the right time.
"Consider the way you store. Don't put the kettle next to the sink and then have to walk ten steps to get a mug. Group the pots and pans under the hob. Put the bakeware with the oven. Use pull-outs like a kidney-shaped unit in the corners for odd appliances that you don't use every day."
If your storage creates a proper home for everything, it will keep that crucial countertop space free. "People put something on the counter because they don't know where it goes. But really if you want something to be accessible, you want it to have a home."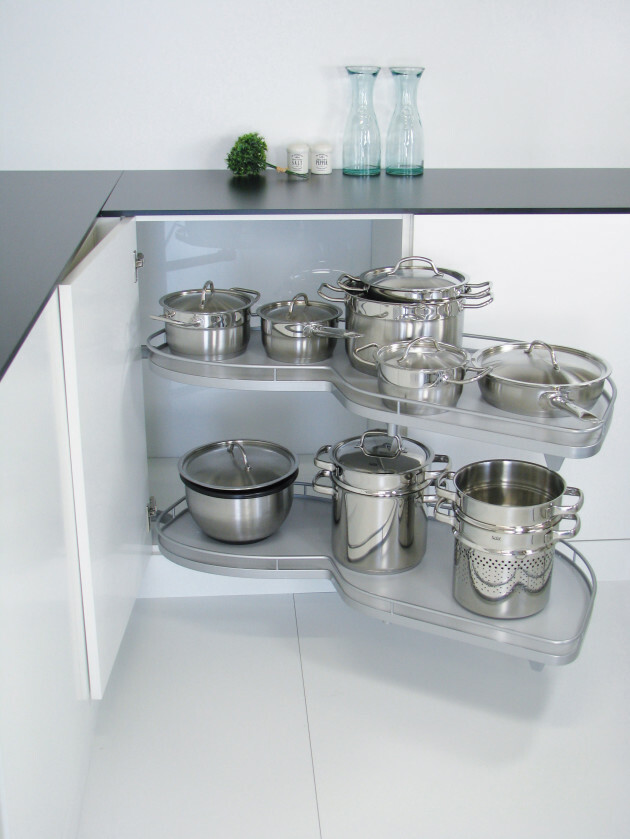 This Lemans kidney-shaped corner unit is ideal for making the most of that awkward space

Source: Cash & Carry Kitchens
5. Be strict with yourself
Don't go into organising blind – there has to be an edit first, says Marie. To do this, you need to prioritise your needs. "You have to be ready to reflect and have that therapy session – do I want it, or do I need it?" 
Getting a second pair of eyes can be essential for this part of the process, says Marie. "It's hard for you to recognise [when something isn't the best use of space], but it's much easier for the designer to spot it."
For example, she says, "we can have clients design their kitchens around a single large appliance like a stand mixer – and they will tell you it's just for show and they don't even bake. So prioritising that appliance is at the expense of maybe adequate storage for dry goods." 
6. Let your sink have the spotlight
Along with the hob, the sink is probably the centre of your kitchen arrangement. But often it is something that people don't give much thought to, says Marie.
She recommends that you put time into finding a sink that works for you. And like everything else about a kitchen, it's personal. "Recognise what's important to you. For me it's, is my sink big enough for my pots and pans? I like to throw everything in the sink, it all fits, and then I can sit and have my dinner without looking at a dirty kitchen." To achieve this, consider a large one-bowl sink, she says. "Or, if you don't use a draining board and just pre-rinse before loading the dishwasher, don't put one in."  

Under-counter task lighting plays a key role in this beautiful Hampton kitchen

Source: Cash & Carry Kitchens
7. And finally, don't forget the lights
There's no point designing a beautiful and functional kitchen, says Marie, and then lighting it all with a single light in the middle of the ceiling. To do that is to ignore the crucial role that lighting plays in the way we use a room. 
"Lighting can really affect how we handle the stress in a kitchen," she says. "If you can't see something or can't find something, you're starting the meal flustered. It's one of your fundamentals in kitchen design."
She recommends installing lights for the different uses that the kitchen has. "Get some LED spots put in, some task lighting. The overhead lights are for when you're cooking. I like pendants for when you're entertaining. You can even have under-counter lights, which are perfect for the midnight snack." 
You can book a free design appointment with Cash & Carry Kitchens today, at any of their 15 nationwide showrooms. With a reputation built on quality, trust and expertise, Cash & Carry Kitchens are with you all the way – from the first conversation, to seeing your new kitchen installed by trained fitters. To start your journey and book a free consultation, visit cashandcarrykitchens.ie or call 1890 92 92 26.