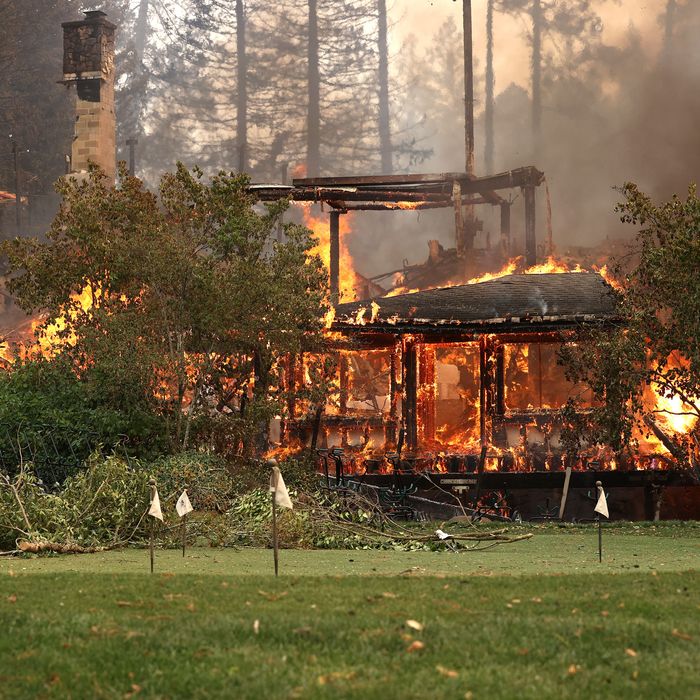 The Meadowood resort was engulfed in flames.
Photo: Justin Sullivan/Getty Images
The Restaurant at Meadowood has burned down, engulfed by the fast-moving Northern California wildfires that have forced tens of thousands of people to evacuate and burned homes and wineries. The Mercury News reports that guests and staff of the Meadowood resort evacuated on Sunday, as the Glass Fire spread rapidly across Napa Valley.
On Monday morning, it was reported on Twitter that Meadowood burned down, and journalist Adam Housley shared a photo of the burning building, with a firefighter looking on, writing it couldn't be saved. The restaurant's chef Christopher Kostow also confirmed the news, writing on social media, "we are all torn apart … [director of marketing and communications] Martina [Kostow] and I wish our broader, Napa community safety and courage during this devastating time."
One of this country's more famous high-end restaurants, the three-Michelin-star spot is located on the resort of the same name in St. Helena in Napa, which has been devastated by the Glass Fire. Along with the many homes, seven vineyards have been destroyed or damaged, including Château Boswell on Sunday, and dozens of other wineries are within the evacuation or evacuation-warning areas.
Another shot of the devastation.
Photo: Justin Sullivan/Getty Images
Photos of the resort show that the main building and restaurant have burned down entirely, with only the floor, covered in areas with ash; freestanding chimneys; and the buildings bones, as fires still burn. Speaking with the Mercury News, a representative for Meadowood's parent company Pacific Union says, "whatever it takes to rebuild and reopen, we'll do." As news that the building had burned down spread, others from the the world of fine dining shared support and condolences including the owners of L.A.'s Baroo, Atla and Cosme's Daniela Soto-Innes, and Noma's Rene Redzepi.
This post has been updated with new information.