Bruins traded in crowds and hip-hop beats for Zoom links and timely advice at this year's Bruin Bash.
The first-ever virtual Bruin Bash featured stand-up comedian Jaboukie Young-White on Tuesday night and TikTok personality Tabitha Brown on Wednesday night. Co-hosted by the Cultural Affairs Commission and Campus Events Commission, Bruin Bash 2020 adopted a Q&A format instead of featuring musical performances. This decision was inspired by the success of spring quarter's events with virtual speakers, said Campus Events commissioner and fourth-year communication student Alice Naland.
"Our reasoning for (inviting) speakers is that it's novel content," Naland said. "It's not a song that you could watch otherwise. It's also interactive, (which) benefits students the most."
Tuesday night's event started off as a moderated Q&A between Young-White and CEC Speakers Series director and third-year economics and philosophy student, Maya Sanghavi, along with Cultural Affairs commissioner and third-year public affairs and Spanish language and culture student, Promise Ogunleye. The moderators were prepared with an assortment of topics that ranged from inquires about Young-White's upcoming projects to hobbies he picked up over the last couple months in isolation.
From starring in an upcoming A24 film alongside Joaquin Phoenix to raising worms on food scraps until they ran away, Young-White said he is simultaneously a figure to look up to and someone who echoes the sentiments of young people. He said he missed the vibes he used to feel when he performed stand-up and could interact with other people in-person.
"I haven't felt a (good) vibe in so long," Young-White said. "It's been months since I felt a really good vibe – an unadulterated vibe."
[Related: Bruin Bash 2020 to forgo concert, feature Jaboukie and Tabitha Brown as speakers]
Through the screen, Young-White managed to elicit laughs with personal anecdotes mixed in with more serious discussions on diversity behind the camera and what resilience looks like in today's world. When the topic of his Twitter was inevitably brought up, he joked about landing on the FBI watchlist while sharing his insights on censorship in comedy.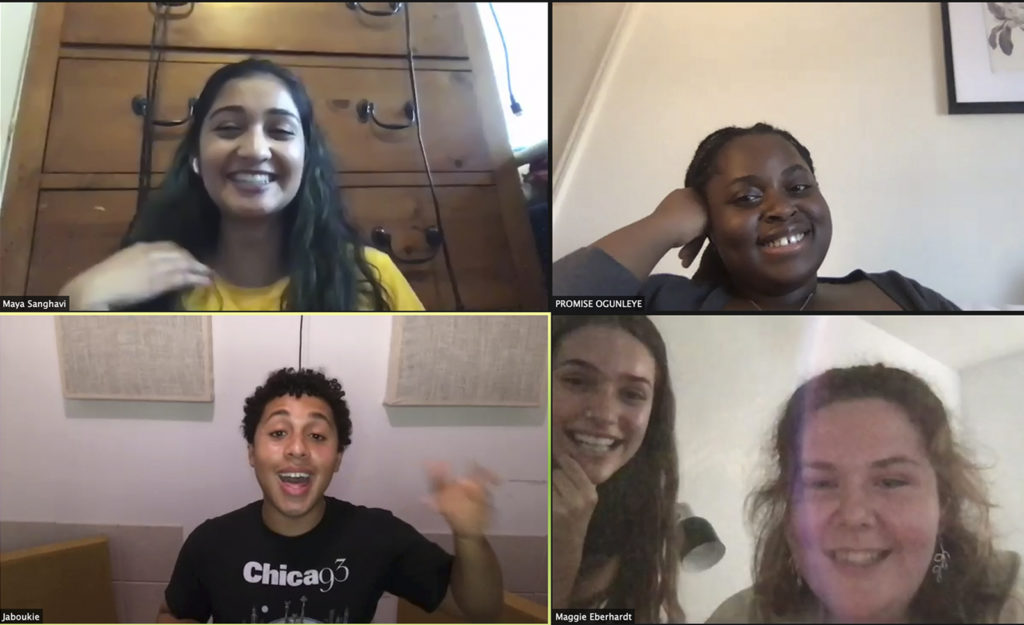 Eventually, the moderators allowed for audience members to speak with Young-White themselves, inviting several students onto the panel. Third-year human biology and society student Hanna Barlow said she was shocked and grateful to be chosen.
"I definitely didn't expect to get chosen, so when they said my name, there was definitely this moment of panic," Barlow said. "It was really cool to talk to him – he seemed super down-to-earth. … I definitely called my brother right after to brag about it."
The brag-worthy moments continued Wednesday night, when Brown held a virtual cooking class and guided students through a vegan garlic pasta dish. She lived up to her nickname, "America's mom," by showing off her avocado toast mittens and offering homey cooking tips while sprinkling in her signature words of guidance. As students popped in to show off their cooking in-progress, she praised them each with words of encouragement.
[Related: Bruin Bash garners mixed reactions, safety concerns after DaBaby's performance]
Meanwhile, moderators Sanghavi and Ogunleye cooked along and asked questions in the same format as the night before, occasionally bringing in students to speak with Brown themselves. Brown divulged the circumstances that led up to her life-changing vegan journey and offered some steps to making veganism more accessible in "food deserts." She also discussed mental health, walking the audience through the mindset that got her through periods of anxiety and depression.
"I always made a promise to myself that if I got through (my anxiety and depression), I would always try to focus on light," Brown said. "And not just focus on it, but be that for other people."
Despite a few technical bumps, which ultimately resulted in the event ending prematurely, Brown was still able to pass on words of wisdom to the event's attendees. She advised incoming freshmen who sought advice about simple vegan cooking to try jackfruit tacos while comforting students and reminding them that they are enough – despite how they may feel at times.
"Take it one day at a time and don't be hard on yourself – it's gonna work itself out," Brown said. "You're still here, it's still happening and it's gonna be amazing."
This year's Bruin Bash was a first in many aspects, from its virtual medium to its speaker series format. Regardless, Barlow said she was appreciative of the virtual opportunity and took it as an indicator that UCLA is continuing to work around obstacles. Though the committees were unable to deliver an in-person concert, Naland said she was still satisfied with how the event turned out.
"Our main goal (was) to give students a break and to give them an experience that's a little bit of a breather or something that they can enjoy – especially to mark the beginning of the year," Naland said. "I think we really did that, and I'm proud of us for doing that."