Emirates Group's in-flight catering operation is to establish a dedicated production facility to produce kosher meals, those which comply with strict traditional Jewish dietary requirements.
The Dubai-based company says the operation, to be known as Kosher Arabia, will be formed through a partnership and commence production in January next year.
Subsidiary Emirates Flight Catering is linking up with CCL Holdings, founded by Ross Kriel, the president of the Jewish Council of the Emirates – an organisation representing the Jewish community in the United Arab Emirates.
This council had welcomed the signing of an agreement, on 15 September, normalising diplomatic relations between Israel and the UAE.
Emirates Group has previously supplied kosher meals to airline customers via overseas outsourcing.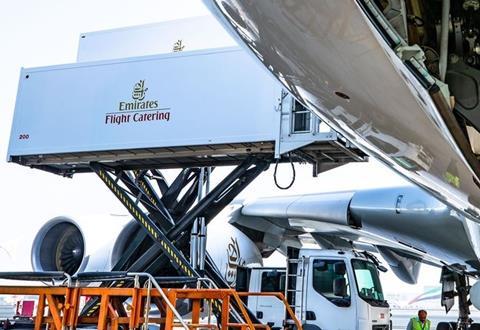 It has not specifically linked the Kosher Arabia agreement to potential UAE-Israeli flights by Emirates Airline, but it states: "With recent developments, we expect that demand for kosher food in the UAE and region will grow quickly."
Non-stop air services between Tel Aviv, Abu Dhabi and Dubai will be among the issues to be negotiated following the diplomatic pact.
Emirates Flight Catering, which supplies about 100 carriers, will carry out the food production for Kosher Arabia, while CCL will handle certification, supervision and development support.