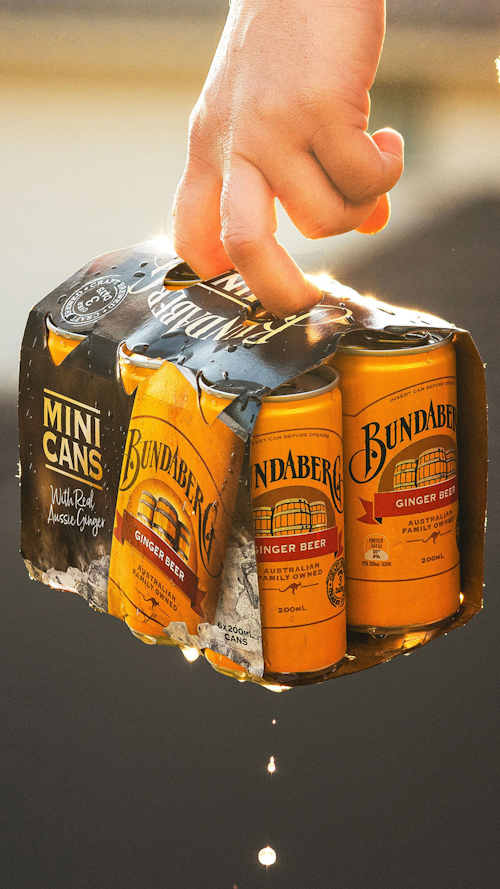 Cans filled by Bundaberg on its new filling system.
This marks the sixth such Krones filling machine delivered to Australia in the last three years. In addition to the Craftmatic C, Krones also supplied Bundaberg with the entire wet end: a Canmatic empty-can inspector, a Contiflow mixer, two Checkmat inspection systems, a LinaTherm warmer, and a Linadry drier.
Following several years of toll packing, Bundaberg Brewed Drinks deliberately opted for a canning line of their own. "Having canning technology in-house is an important step for the business, allowing us to offer a much more versatile pack format that consumers have been asking us for," says CEO John McLean. The Craftmate from Krones won Bundaberg over – not only by its technical features but also in terms of price-performance ratio, production quality, and safety standards. The line fills 15,000 cans/hr and handles both 250-mL standard cans and a 200-mL slim format. Thanks to this combination, Bundaberg Brewed Drinks will be looking to toll pack cans for other craft brewers, too.
Speaking of beverages, look what ZenWATR is doing with plastic waste reclaimed from the ocean. 
The new machines arrived in Australia in December 2019, and by mid-January were filling the first sales-quality drinks. In the meantime, Bundaberg has already produced over 3.5 million containers on its new line. These can currently be bought in Australia, New Zealand, and the USA. And even though the coronavirus pandemic is at present changing the entire world, McLean sees an opportunity here for selling premium products in cans. "As lockdown restrictions are lifted, we're expecting to see this more convenient product taken on people's local adventures," he notes. "Cans are really handy for this because they are easy to transport and cool quicker. The new mini-cans are the perfect serving for both mixology and straight consumption."
---
See it Live at PACK EXPO Connects Nov. 9-13: Take the Guesswork out of High-Speed Palletizing, by Kawasaki Robotics (USA), Inc. Preview the Showroom Here.
---