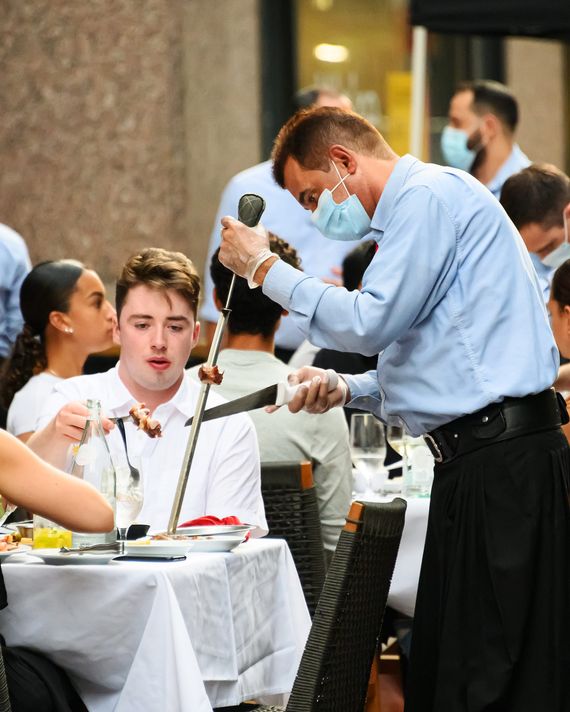 "There are people who come in and don't realize we have to work even harder right now," says line cook Andy Chino Perez.
Photo: Noam Galai/Getty Images
When Beth, was laid off from her job at a Manhattan fine-dining restaurant in March, she found herself with two choices: She could go home and potentially throw away the $20,000 she'd put toward her visas and career or risk violating the terms of her visa by getting another job. Going months without work wasn't an option, and doing so would have meant violating her visa anyway. So she risked it. "This whole time, I've been working at this catering company under the table," she says. "Under normal circumstances, visa holders have to find another job. That's what I did."
Before finding that job, though, Beth says she started feeling really sick not long after she was laid off. Although she never got tested, when she called the 311 hotline, she says the doctor she spoke to told her she likely had the coronavirus. "I had to stay home for two weeks. With nobody in the house, I reached out to my best friend, who was able to drop off food at my front door," she explains. The hospitals were overwhelmed, and Beth didn't have health insurance. "That was the hardest time for me: I couldn't get a job, I was unable to go to work, I was unable to leave the house. If my friends weren't here to support me, I wouldn't be able to make it."
Beth has lived without health insurance before. She didn't have it when she cooked at her first restaurant in New York, a famous fine-dining spot, she says, and during that time she got pneumonia. "It almost feels like, in the industry, it's okay to not have health insurance. And it really isn't," she says. "I didn't realize, there is only so long you can do it before you realize, I need to survive. That's why people leave."
Over the past six months, she has gone back into debt, which she had largely paid off before the restaurant shutdown. When she first started working in restaurants, she told me, she'd sometimes have to use her credit card to pay rent and had accumulated $5,000 in debt. "I was able to pay off almost all of that. Now I'm back to square one. I used up all of my savings, and I'm really just making ends meet," she says. Recently, she got a visa for her new job approved, which cost her several thousand dollars more. Still, she's in a better situation than many other people out there, she says, including friends who had to go back to their home countries and others who are undocumented and still out of work.
Beth is just one of countless cooks in New York — and around the country — who saw her life upended by the pandemic and the restaurant shutdown. In New York, unemployment in the bar-and-restaurant industry remains staggeringly high. While there were job gains in restaurants in July, Eater's Ryan Sutton reported earlier this month that there were still 163,000 unemployed hospitality workers in the city, accounting for roughly half of the industry.
The jobs that do exist aren't necessarily paying as well, generally speaking. Hours are more limited, and so is business. This has been particularly difficult for people like José Duy, a prep cook and dishwasher at the Bushwick restaurant Ops. He's the only one earning an income in his household right now, but he's not making as much because he's working less. "I have problems with the bills … Maybe this month, I don't pay for the electricity and the gas," Duy says.
Not to mention that employees have gone back to work at potential risk to their own health while also having to enforce new guidelines without necessarily being compensated for the additional work. The return of limited-capacity indoor dining on September 30 and the end of outdoor dining on October 31 will change things again. Grub spoke to five other cooks, bartenders, and servers about how their lives have been affected. Some names have been changed to preserve anonymity.
"When my dad came to the U.S., he fought and worked really hard to buy a house. It's very fortunate now that he paid it off after 20 years. That's really helped him out even though he lost his job," says Andy Chino Perez, who was born in Mexico and whose father came to the U.S. in 1977. "He's been a waiter all his life."
A line cook at San Pedro Inn, Chino Perez also found himself out of work for much of the past six months after the Red Hook bar temporarily closed in March. He took the job when San Pedro Inn opened in 2019, realizing, he says, that after two and a half years as an instructor for the nonprofit St. Nicks Alliance, he wanted to get back into the kitchen. As many restaurants owners were doing, the owners of San Pedro Inn tried to stay open for takeout and delivery, but the business wasn't there. After Chino Perez was laid off, he struggled to get unemployment benefits.
"It took me almost a month to actually claim my first week of benefits. Not having money or any income for a whole month was a little scary," he says. During his months out of work, he picked up shifts at the Avenue U Fish Market, owned by his girlfriend's father in Sheepshead Bay. When he went out looking for work at job sites elsewhere, "it would be, 'only for a couple days, then we'll have to let you go,'" he was told.
When San Pedro Inn reopened for outdoor dining over the summer, Chino Perez returned. But this whole time, even when he didn't have an income, he has been helping his dad with property taxes, bills, and payments for the car they'd financed before the pandemic.
"My dad is still claiming benefits, but he's not receiving the $600 anymore. and he was working part-time before, so he's not really collecting as much," Chino Perez adds. "Whatever I can get from work right now, it's definitely going to him."
"I was unable to get unemployment because I hadn't done enough on-the-books employment. So I've only done packing shifts since my last job," says Morgan, a bartender who requested anonymity. They left their last job bartending at a waterfront restaurant over the summer, citing safety concerns and a lack of seriousness from management, and haven't made much money since. They are relying mostly on the support of their partner, who works in tech. "Because my partner is covering both of us for rent, he can't save right now. As a couple, we will come out of this worse than we would if I was able to work. But it's not like it is bringing us down to our last dollar."
Last year, Morgan decided to phase out of bartending and go back to school to finish their bachelor's degree and apply to graduate school. But Morgan still needed to pay for living expenses, so they applied for the aforementioned job, which was supposed to start in the spring. But the job didn't materialize until June, once outdoor dining was allowed. Morgan was asked if they were still willing to work. After they started the job, though, it didn't take long for Morgan to start worrying about how management was handling safety protocols, as well as the customers. Social distancing, they felt, wasn't being adhered to, especially during inclement weather. Morgan cites a specific incident involving a group of VIPs: The tight space behind the bar was already difficult for two bartenders trying to keep a distance, and management brought on a third to help that night. The VIP party was twice as many people as otherwise allowed to sit at the bar. Even with the normal amount of people, Morgan felt they couldn't properly distance.
"I was never explicitly told to disregard these protocols, but when I would bring it up to my colleagues, they would say, 'Yeah it's just not practical, I don't know what they want us to do,'" Morgan says. Despite not being able to collect unemployment, they felt they had to quit.
"When you think about how you make money as a tipped employee, you have a very efficient, tight team — you don't have more people working than you need, and everyone is getting things out as fast as possible," they say. "It's like making money is basically dependent on a formula that is actively antagonistic to employees doing things safely." The pandemic, they say, has simply made it more clear how unsustainable a career in bartending is — the hours, the physical stress, the lack of health insurance. "Unfortunately, I think a lot of us were starting to recognize this before it happened. We loved it so much we wanted to pretend we didn't see what was going on."
Morgan once dreamed of opening their own business, but now they feel lucky to have had a change of heart. "I thought maybe I'd find investors to open a café or bar. In my 20s, that was something I was so sure I was going to do," they say. "Watching my friends, who are very much in the same boat, having to shutter, make these really impossible decisions for themselves — thank God, I didn't do that."
Since quitting that bartending job, they have applied for other jobs in the industry, but Morgan says they're also considering going to graduate school in the E.U., where their partner has citizenship. "It's looking like even if we got a vaccine tomorrow, so many places are so underwater," they say. "There are so many fewer jobs to go around. It's not as much of a certainty as it was."
In September, Channing Centeno found himself without a job after working the nonstop hours of the restaurant industry for the past 16 years. "I've known I was gonna do this since I was 14," the bartender says of his career, which started back home in Cleveland, where he washed dishes and made pizza at a local restaurant while in high school. This has given him time to pause and think.
"Especially in the hospitality industry in America, it's like, the more you work, the better you are. So you are always having to have a job, always working late hours, opening and closing. That's how success and work ethic are measured," he says. "I'm trying to take this time to not care so much … I don't want to put all my energy into food and beverage right now, because I don't think it's going to pay off for me. I'm trying to focus on something else for the first time in almost 20 years."
Up until this month, Centeno worked for the liquor brand St-Germain, which employed him as its Brooklyn ambassador. He left his main gig as the head bartender and creative director at the Bushwick restaurant Otis in May because he and management, he says, no longer saw eye to eye. That left him time, during the height of the Black Lives Matters protests, to go out daily and feed protesters through his Purple Pineapple project. (He did that with the support of some friends, and donations ended up covering most of the expenses.) After a couple of months, he decided he had to take a step back: "Me, being a Black man, I want there to be change in this country, and I didn't know how else to put my energy to help create change," he says.
At this point, Centeno doesn't want to go back to working in restaurants until, he hopes, March 2021. Unlike many others, he feels secure waiting for work because he has been able to make money here and there, has savings, and is receiving unemployment benefits. "I don't want to do it unless it feels good. I have a lot of friends who work in restaurants and bars right now, and half the time it's them yelling at people to put their masks on," he says. Later in the conversation, he adds, "If I was worried about money, I would be working in restaurants. Luckily, I am in this position. I know it's unique, but I'm fine."
Instead, he's getting his certification as a yoga teacher, trying to bring new practices into his work. He had planned to leave the city for a bit and bought a one-way ticket to Portland, where he was going to do dinners with a chef friend who had quit his job, but Centeno returned east because of the out-of-control wildfires. "I'm trying to take advantage of this time where I'm not working for somebody," he says. "I've had offers to do bar programs for places opening right now. But it's like, man, instead of creating ideas for other people, let me try to grow inwards and figure out what's best for me one, two, three, four, five, ten years down the line. And set a new direction … When I do bust my ass, I want to bust my ass for myself."
Looking ahead even a couple of months, Kai VanGuard has no idea what's going to happen. "I think the reality is there is no future, because in NYC, what we're allowed to do changes every day," they say. VanGuard was living and working on Long Island until the restaurant shutdown, when they lost their job as a server. When a friend asked them to move into a Queens apartment, they did, and they were lucky, they say, to find a new job the same week. (They asked for the restaurant not to be named, for fear of retribution.) VanGuard believes they got the job because of their experience doing a variety of work, from back-of-house jobs to bartending.
What's difficult, they say, is not knowing how long they'll have this job. VanGuard and their roommate were able to get a six-month lease. If the restaurant does lay them off, at least they won't be liable to pay months more in rent. Unemployment benefits — especially now that they've been reduced — won't be enough.
VanGuard has eight years of experience working in restaurants, bussing tables and bartending and everything in between. But they took the jobs just to make money. Last year, they graduated from a MBA program in Europe, which they chose so they could avoid taking out loans. "I'm trying to figure out a way to mainstream gender-neutral and gender-queer cosmetics in fashion," they say. Their plans have changed, but uncertainty has made planning difficult. "There's no security. Am I paying my bills right now? Yes, but also we all talk about how we're saving for October. Once it gets too cold, what are you supposed to do?" they say.
Although Hannah Treasure was laid off from her job at a West Village restaurant in March, the past six months haven't made her worse off financially. She was able to collect unemployment, and without any unforeseen expenses, she was barely spending anything. She continued to teach online as an adjunct professor at CUNY a couple of days a week through May (while still getting unemployment) and then her graduate program ended.
In June, she returned to work at her restaurant. Her hours were limited at first, and she was able to continue collecting unemployment. "That was a huge cushion. I've never been able to save money," she says. What has changed is her relationship with the customers — the meager tips and disregard for social distancing she's seeing in the West Village.
"So much of the public conversation has been about the power of money, the power of public consumption, and then to still be getting 15 percent tips just, like, feels like we aren't living in the same reality," she explains. "The West Village in general, a lot of these kinds of people, nothing really changed for them except they're just at home. They're still making the same amount of money."
At the same time, Treasure's job is simply more stressful. Several cooks and front-of-house employees we spoke with agree. Chino Perez, the line cook, says, "Every single kitchen condition has changed … There are people who come in and don't realize we have to work even harder right now. Every day we're risking being open."
For Treasure, it's a matter of adhering to guidelines with customers who don't know what they are or don't think they need to be followed. "That's kind of a whole other aspect of the job that is mentally exhausting in a way it wasn't before," she says. Also, her income on any given night depends on the weather. One recent Thursday in a downpour, lots of guests stayed out under their tables' big umbrellas.
"We were completely soaked," Treasure says, "and I think they were just kind of uncomfortable with the fact that they're asking for bottle service while we're being poured on. So some of them were laughing. It's an absolutely ridiculous situation." She adds that it was worsened by people tipping 20 percent. "It's a little horrifying. It does feel like some people look at you like, 'You can be doing this work; it's okay for you to be doing it. But it would be ridiculous for me to be doing it.'"
Grub Street is using pseudonyms for some of the people in this story, who requested anonymity for fear of repercussions.