I'm a pilot and I've been in the restaurant business for more than 35 years. From the beginning, I'd always wanted to have an aviation restaurant, and I had contemplated various aviation themes, like putting an airplane on a restaurant roof at an angle. But in 2001, I was able to truly realize my dream by building a restaurant in El Paso County, Colorado, using an actual airplane.
I had been looking at different types of airplanes to transform into a restaurant, including a Boeing B-52 Stratofortress—but the wingspan is too long and the fuselage is too narrow. Then, I came across the Boeing KC-97 Stratofreighter, a U.S. Air Force tanker aircraft, which is a pretty big plane.
I had been looking at several of these Boeing KC-97 planes, but the one I eventually bought came from Fort Worth, Texas. There are generally a few different types of people and groups who look for planes—museums, millionaires or scrappers who know what the metal is worth. So I was competing against those folks when I was looking to buy. The plane I ended up with came up for bid at a government surplus auction, I was able to buy it and I had to sign papers saying that I would never sell the plane to a foreign entity.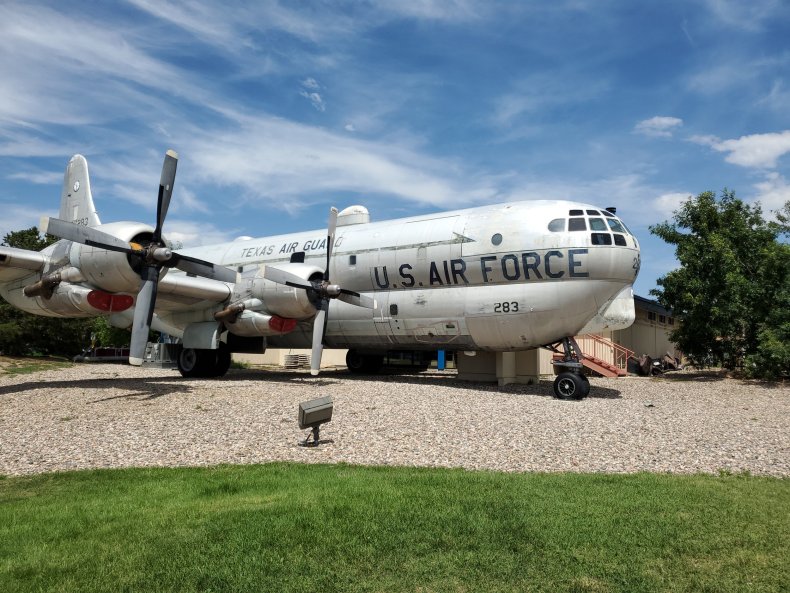 I completed the purchase of the plane in September 2001, but it's 110 feet long, so we had to bring it from Texas to Colorado on eight semi trailers in December that year. Because the plane has production joints, we were able to unbolt it for transport and then bolt it back together.
When the plane arrived at my restaurant location, we reassembled it and treated it like a metal building we had to transform into a restaurant. Firstly, we had to make sure it was insulated because Colorado can get cold or hot. As the plane has two levels, we ran all the duct work on the lower level so that we could control the temperature. We also installed soda machines and other restaurant equipment. The plane adjoins a main restaurant building that seats around 300, and the plane itself can seat 42 patrons.
We opened the restaurant in May 2002, the Friday before Mother's Day and were originally called Solo's Restaurant. I had a partner who was an investor until around 2008 when I bought him out—so now it's The Airplane Restaurant.
Before we first opened in 2002, we kept the airplane aspect a secret, although obviously the building regulators knew. Then, as soon as the plane started coming in on the semi trailers, I began to call all the local news and radio stations, telling them, "I think there's a guy who's going to build an airplane restaurant here, and I think it's going to have a real airplane." So I ended up doing lots of interviews!
You're definitely in an airplane when you dine here—the cockpit is intact and the refueling boom is visible. We have installed a door, but people can look through and see where the aircraft personnel would have refueled the plane. We created the overall structure so part of the airplane is outside and part of it is inside the main restaurant. The airplane is alongside the building with two passageways into the plane and of the four engines, one is inside the main restaurant, along with a propeller and one wing. So overall, we have the plane area, the main restaurant and a bar, and we serve a wide range of dishes including; steaks, salads, seafood, fresh fish and buffalo, for both lunch and dinner.
We have created an "aviation ambience" in the main restaurant, which includes airplanes hanging from the ceiling, aviation artifacts and hundreds of pictures on the wall. Gene Cernan, the last man to walk on the moon, and retired U.S. Navy Captain Mike McGrath, who was a prisoner of war in the Vietnam War, have both been to my restaurant and left photos that we have on display.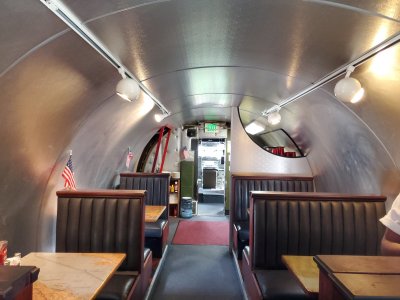 There are actually a lot of astronauts and military who live close by, and they really enjoy the aviation atmosphere. But everyone enjoys it—we used to be able to let kids into the cockpit, which we can't currently do because of the COVID-19 pandemic. But that was great, the kids could pretend they were flying around the world a couple of times!
We also have people who are 80-years-old and have never been in an airplane. They come in and say that they wouldn't have been worried about flying if they'd known an airplane looked like my restaurant. Well, we have tables and booths in the plane, so it's not exactly the same as flying in an airplane.
The restaurant has a lot of regulars, including a 96-year-old World War II fighter P-51 pilot veteran called Bob Taylor. He comes in almost every day and he still drives himself. And, because we're also very close to the National Museum of World War II Aviation, we typically get tour groups coming here, as well. I like to think that when people come all the way across the country on a trip, they may not want to go to a chain restaurant— we're definitely a one-of-a-kind.
Of course, since COVID-19 hit we haven't been getting so many tours. We had to close between March 17 and June 2 and were only able to do takeout during that time. From June we could open to a 25 percent capacity, and now we're able to open to a 50 percent capacity. We can currently seat 24 in the plane area, but of course everyone has to be six feet apart.
We have, overall, lost about 50 percent of business since the March pandemic hit. When we were only doing takeout we were down by about 80-85 percent compared to normal, because everybody was afraid to go out, and all the businesses around me were closed. The Paycheck Protection Program has helped out quite a bit, and I have tried to be conservative with the restaurant's finances. We have been lucky, as El Paso County, the largest county in Colorado, has not seen many deaths from COVID-19.
As restrictions are still in place and businesses close around us, the loss of tour buses, travelers and local patrons has taken a toll. We also lost the United States Air Force Academy graduation, along with other local graduation celebrations. I believe we will survive this pandemic, although it is causing some financial strain.
On a community level, we used to host tutoring for an elementary school here each week. On a Saturday morning, the kids would come in, we would treat them to breakfast and we had volunteer tutors come in to teach them. We want to start that up again soon but, of course, there are concerns around COVID-19 at the moment.
Since the pandemic hit we have been taking extra precautions, including employees' temperatures before they come in and, when we reopened for dine-in, we started doing contact tracing with patrons.
We take the name, phone number, time and table number of any party that comes in so the health department can trace any outbreak back. But we have not had any incidents of COVID-19 here. And while we take care with all customers, we make sure we are aware of the vulnerable people that visit us, like the World War II veteran. He still comes in and he is actually going to have his next birthday party here.
When my employees who have been here for a while get used to working in an airplane, I just tell them to sit in the lobby and watch the kids and adults walk in. I tell them to watch as those customers first see the plane inside the building and light up with excitement. I think that's the enthusiasm we need to keep, because if we get used to seeing the plane every day we'll forget about how incredible it is the first time you walk in.
My best friend in Denver asked me what it is like to walk into my dream every day, and the answer is—it's amazing. People also ask me when I'm going to retire, and I just say, "what would I do that for?" To me, this is the coolest thing on the planet.
Steve Kanatzar is a pilot and the owner of The Airplane Restaurant in Colorado Springs, Colorado. He lives in Colorado Springs with his wife.
All views expressed in this piece are the writer's own.