That push is thanks largely in part to Tanisha Velez and Ebonie Joiner.
CLEVELAND — There is a resurgence and refocus on Cleveland's west side right now in providing healthy and locally grown food options, thanks, in part, to two brand-new entrepreneurs. 
Meet Tanisha Velez and Ebonie Neely.
The two met at the S.E.E.D.S (Support, Empower, Engage, Develop, Sustain) Program, created by Cleveland Councilwoman Jasmin Santana and community entrepreneur and activist Alysha Ellis a few years ago. The program equips women with the tools they need to successfully start their own businesses and create equity in their sometimes underserved communities.
Velez owns Cleveland Fresh, a microgreen start-up that opened in the Tremont Storefront Incubator in August. She found the tools she needed to gain the storefront access through the S.E.E.D.S. program.
Her business, that provides grab-and-go greens to the community and sells to local companies, began after someone asked her how Puerto Rico would bounce back agriculturally from Hurricane Maria.
"Ok Puerto Rico is going through all of this, but then when you start looking into what's going on here, it's like ok, that shook me into understanding what I need to be doing," she says.
Velez saw the same disparities right here in Cleveland, and began Cleveland Fresh by growing greens and potatoes in her bathtub at home.
"Understanding 1 out of 4 kids go hungry, the school lunches and breakfasts that they serve these kids and expect them to work to the best of their ability but they don't have the tradition they need to work that way," are some the disparities Velez sees. "The food insecurities that we deal with, how many grocery stores are near people."
Cleveland Fresh is just one of the efforts Councilwoman Santana is efforting to bring healthier foods into Ward 14. That's where Ebonie Joiner comes in.
Joiner and her husband noticed an abandoned lot behind their home near West 39th and Denison last year. It was overgrown with weeds and serving no purpose. She approached Councilwoman Santana, Ellis, and Velez during the S.E.E.D.S program about turning it into a community garden.
Paperwork was filed, along with a few options to name the garden, and the title "Shalom and Tranquility Garden" was selected.
Joiner and several volunteers spent the whole summer making the garden into what it is now. 
"I just started going into my network and asking families if they'd like to garden with us. Just stopping neighbors and they'll tell you, stopping them and just saying like 'hey, this is what we've got going on," she remembers.
The Shalom and Tranquility community garden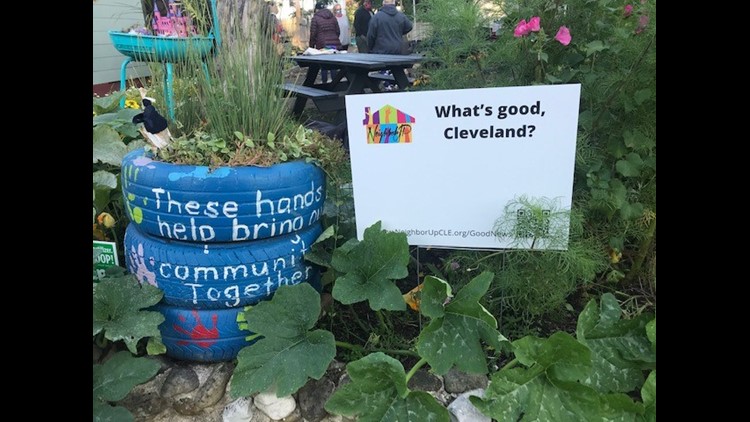 The garden offers produce like tomatoes, eggplant, squash blossoms, zucchini, and delicata squash. It also offers food in an otherwise food desert, and opportunities like gardening for kids and those with special needs. Joiner is a mom of an autistic son, and sees the garden as a way to connect typical and atypical families.
"Besides produce, we have community, we have support, we have encouragement, we have so much to offer one another because I'm a first-time garden grower under Tanisha's tutelage, and we are all in this project together, " Joiner says.
She is hoping to get a volunteer sign-up sheet going to encourage more people to help garden. However, garden season is coming to a close. Though, Councilwoman Santana and Ellis are working with the city to develop more gardens like it across Cleveland. For now, Joiner works in the garden Sunday mornings before noon. 
To learn more about the Shalom and Tranquility Garden, click here.
To learn more about S.E.E.D.S. and sign up for their upcoming virtual classes, click here.