The holidays are coming, and it goes without saying that this will be a season like no other. If the pandemic has taught us anything, it is that creativity is king, innovation is queen, and trying to live our "normal" lives is like flirting with a jester. Adaptation, pivoting, and flexibility are the new norms, and that's what the locally-owned and operated umbrella of businesses by the Stormans family is good at. Their Bayview Catering, based out of Bayview Thriftway in downtown Olympia, is ready to make the upcoming holidays a little easier – offering a certain quality and deliciousness that our community has grown to love.
You might think that a catering company is only useful for large gatherings. Think again. Bayview Catering, established in 1982, is in its 38th year of service and the catering company is known for its "excellent service and superb food" often thinks-outside-the-box and has many at-home options for your immediate (and extended) families.
"People won't be gathering in large groups this holiday season," says Kelly Young, head of Bayview Catering. "These 200 plus gatherings of people for a company party won't be happening, and I think the trend for businesses this year will be individual items like charcuterie trays and gift baskets."
Holiday Meals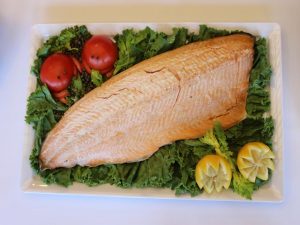 Young is right, and lack of gathering won't just be limited to the business sphere. Families will have to get creative in the ways that they find togetherness. She explains that the Bayview Catering will again be offering hot holiday meals for take-away. She shares that these meals have been very popular over the years, but perhaps even more so this year.
The meals are ordered in advance and are geared toward serving 8 to 10 people. For a family of four, it'd be a great holiday feast, with the bonus of leftovers to enjoy later. There are a few different options to choose from including turkey, prime rib or ham.
The turkey meal comes with a whole roasted turkey, herbed bread dressing, mashed potatoes and gravy, fresh green beans almandine, cranberry relish, and fresh baked rolls.
Young says this is a very popular meal for Thanksgiving, but she will also offer the ham holiday meal, along with a prime rib option. "I like to switch up my sides," she says. "I don't have them set in stone for those two meals yet. I'm still figuring that out."
What she comes up with will no doubt be wonderful – and delicious.
Bayview catering makes the holiday meals hot the day-of. "It's not something you'll need to take home and cook, or even reheat," Young shares. Contact Bayview Catering to reserve your pick-up time, and there's even curbside delivery for those who wish to remain in the car.
Charcuterie Trays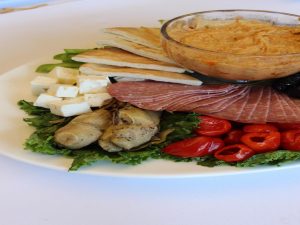 Another to-go option Bayview Catering is offering this year is a resplendent assortment of charcuterie trays. Charcuterie, the art of preparing cured or smoked meats, is artfully displayed on a tray with a wide array of accompaniments like cheeses, crackers, nuts, relishes, dips, fruits and veggies, all on one artful platter.
"Companies might provide a charcuterie tray as a complement to their employees' holiday meals this year," Young forecasts. Giving a charcuterie tray as a gift is a great way to thank someone or add festivity to the season.
Charcuterie trays can be ordered in advance and picked-up or delivered curbside. Young and her team are eager to create something that works within your budget and your ideas.
Dessert Trays
Also available are dessert trays. Bayview Thriftway bakes a wide variety of desserts, and many of them can be beautifully arranged on a tray for take-away.  From assorted finger pastries like mini cheesecakes, Nanaimo bars, and chocolate dipped shortbread, to layered tortes and individual sweets like brownies, cookies and fudge, they have everything you could desire. For those with a sweet-tooth, or those who could just use a little sweetness in their lives, dessert trays are a great way to brighten spirits this season.
Gift Baskets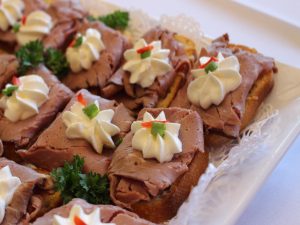 In lieu of putting on a grand affair for your employees, friends, and loved-ones, why not drop a micro-version directly to their doorstep? Bayview Catering can curate custom gift baskets. With a heightened focus on presentation, complementary items and thoughtful touches, these baskets are sure to brighten anyone's day.
Bayview Catering has a unique ability to create gift baskets because they are located within Bayview Thriftway downtown. They can draw from all of the various departments within the store to populate a gift basket, from wines, cheeses and chocolates, to home goods, dry goods and more.
Just give Bayview Catering a call, share your vision and your budget, and the artful staff does the rest. With curbside pick-up, it's a savvy way to give a gift, because it's like hiring a personal shopper and planner, but for a fraction of the cost. Collect your gift baskets and deliver a highly personalized and unique gift.
Together, Yet Apart
We are all doing our best to remain flexible during these trying times. Although, with a little creativity, we are still finding ways to foster togetherness while physically apart. This year my extended family is planning to eat our meals together—over Zoom—and what fun it would be if we were all eating the exact same thing? We'll be giving Bayview Catering a call. 360-357-8016
Located inside Bayview Thriftway
516 West Fourth Ave. Olympia, WA 98502
[email protected]
Or, submit your inquiry via this form.
Sponsored